We have a decade of experience in supporting companies, platforms, NGOs and investors in sourcing, developing and scaling impactful businesses.
Design and Implement Impact Investing Strategy
Guide impact investors through a process supporting them from interest to explore a certain domain to design an impact investing strategy in line with their values and risk return profile and support in sourcing and closing deals.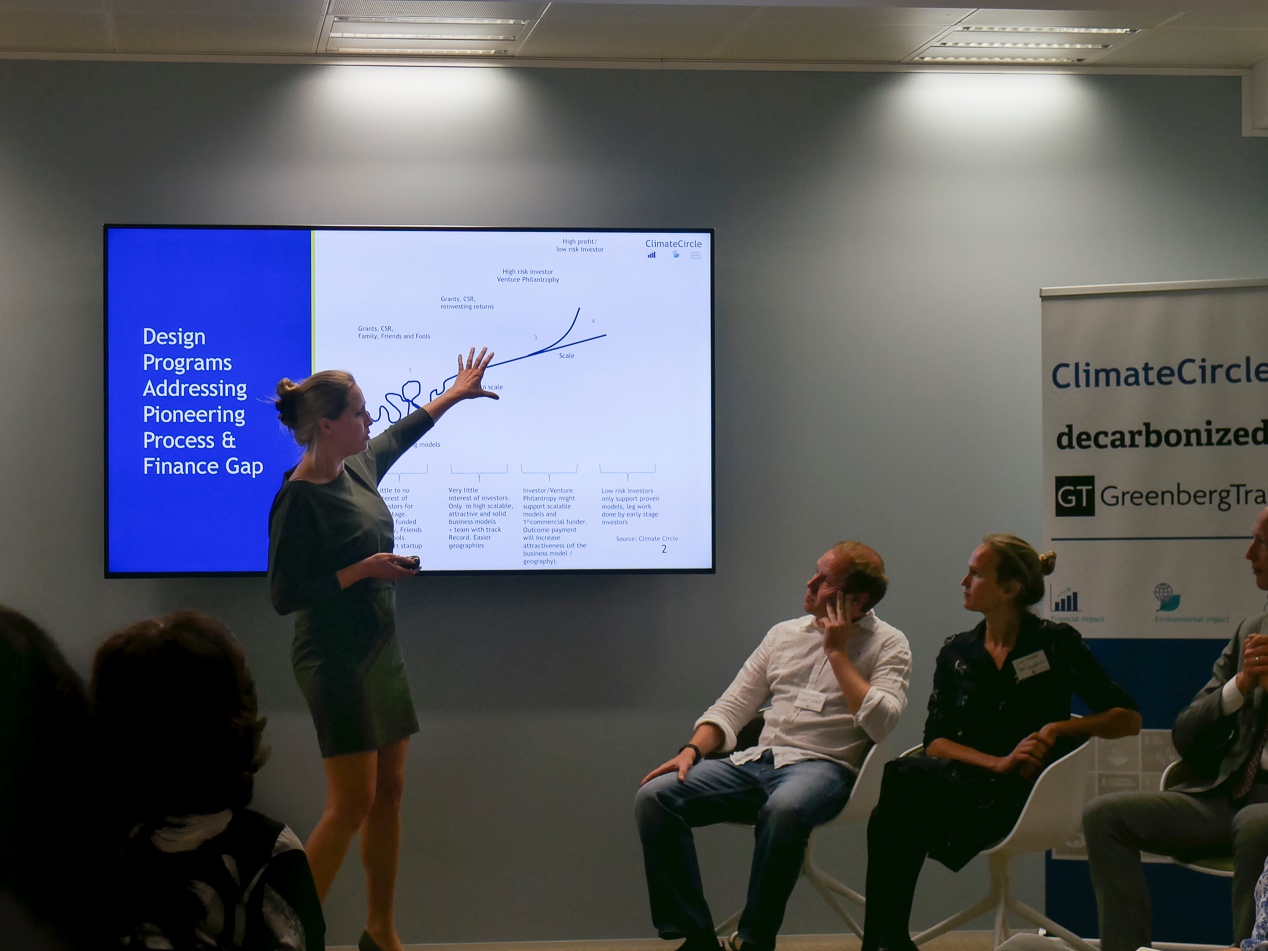 "Based on supporting pioneering business models solving pressing global issues for almost a decade, we learned you need different actors, and investors along the risk-return impact continuum to make these solutions work and solve issues at scale. All these actors provide value to each other but their worlds are separate. By bringing them together, share new developments, in-depth expertise and above all provide the opportunity for experienced investors to share lessons learned with investors exploring the space we can connect the dots and iterate to the next level" Saskia Reus-Makkink, CEO ClimateCircle.
Collaboration of Like Minded Investors
Initiated collaboration between (venture philanthropy) investors of the water kiosk business model. Within the sector this model is seen as the most sustainable and scalable model to provide access to safe drinking water in developing countries.
Key results:
Align on collaboration to move the sector forward.
Align on terminology and definitions (talk the same language)
Agree on a deep dive study into 14 portfolio companies of the investors
Managed the multi client research (including selection of the company to execute the research) on a day to day basis + aligning with the investor teams
Share lessons learned and share the collective knowledge with the outside world
Inform sector, governments, donors, funders, suppliers about sector developments and the opportunities in scaling this business model
After the research: investors worked together in screening & investing
The collaboration included one pension fund (Danone), 3 family offices (Stone, Osprey & Hilton) and one NGO (Aqua for All).
We supported ventures with business models addressing lowering greenhouse gas emissions, climate-resilient water supply and sanitation, climate resilient food security and ICT/Mobile as enabler to scale impact.
Based on a decade of experience in this field, we believe validation of the business model is an essential part of launching an innovative business model, therefor we only design & manage programs that include pilot funding and in-depth customized business support provided by our team of business & investment experts.
Programs are funded by the Dutch government, UNESCO-IHE and multinationals.
Input African Union Policy on Youth Entrepreneurship
Provide input to the African Union to support the reflection, design, and integration of youth-oriented policies at the core of the African Union. Supporitng the Union to consolidate and identify strategies and actions on youth entrepreneurship promotion in Africa. Concrete recommendations on this topic, as well as on its related issues of education, skills development, incubation, acceleration, start-up creation, entrepreneurship ecosystem, and the role of private sector in entrepreneurship promotion.
We provided feedback on business plans to more than 250 innovative and disruptive entrepreneurs in Africa, Asia and Latin America across all sectors. With focus on ICT/Mobile, climate related business models.
Customized business support tracks for companies to launch and scale innovative business models.
Feasibility studies, assessment of companies on readiness to scale, MD programs
We either direct or via our programs provide seed funding to these companies:
Provides a quality, cost- effective and sustainable way of farming which saves up to 80% of water used in crop production compared to conventional farming.
Support in development of low cost hydroponics equipment, testing and scaling (design of standardized units). Support in preparing the company to scale (team, process, sales strategy, business plan, etc). Including working capital to expand the team at C-level, audit the books by international auditor and prefinance sales of hydroponic equipment to slum area in Nairobi.
Working capital provided & customized business support to launch and scale the business model of aQysta in Asia and Africa. aQysta developed diverse models of hydro-powered pumps which do not require any fuel or electricity to be operated
Provides the Ethiopian population to access the following services using their mobile phones:
BelCash is major share holder in HelloSolar, expanding off-grid energy accessibility in Ethiopia
Other related companies include:
Health advice (HelloDoctor)
Market access (HelloMarket / HelloGebeya)
Labour market access (HelloJobs / HelloSera)
Legal advice (HelloLawyer / HelloTebeka)
Mobile Trade service (HelloBroker/ HelloDelela)
Financial Inclusion (HelloCash)
Working capital provided to enable scaling of the circular economy model, turning fecal sludge in energy to the grid, fertilizer, seedlings and organic compost.
Farmerline connects small-scale farmers to information services, products, and resources to improve their incomes and currenlty reaches 200,000 farmers in 8 African countries
Mergdata, Farmerline's proprietary technology, provides information services to farmers to increase crop outputs